Where The Truth Lies (WTTL)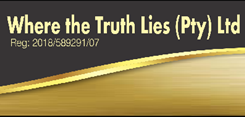 Where the Truth Lies (Pty) Ltd (WTTL) is dedicated to provide professional and ethical polygraph examinations and fraud investigation services to all sectors across Africa. We make use of advanced lie detection technology and techniques to ensure accurate results.
WTTL offers a variety of services to suit the clients' needs. The services include Polygraph Examination for investigations and specific incidents, pre-employment screening for potential new employees, continuous and ongoing screening to eliminate potential risk, statement analysis, criminal background checks, forensic assessment interview and fraud investigation services.