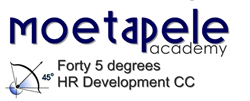 The sole provider of e-learning programs (learnerships and skills programs) using the Lateral Scaffolding methodology built into a unique game-based model, complete with artwork, characters and storyline
Lateral Scaffolding Learning Methodology
Same content – BUT re-arranged;
Constant overview to create a coherent understanding of the thesis / argument;
Regular repetitions;
Unique e-model.
Compare learning to a house-building project:
Art of association to enhance retention;
Just as you know the layout of your real house, you will know the layout of the learning material.
Game-based
Budget to build the learning house:
Win and lose money in an effort to stay with the budget.