Travel Management Services
INTRODUCTION:
Founded in 2016, Mpassi Holdings (Pty) Ltd is fully registered with the Department of Trade and Industry. Co-founded by Chief Executive Officer Mr. José Ambrósio Sambo, a Sworn Translator by the High Court of South Africa (Pretoria Division) with over 9 years of exceptional experience in Portuguese/English Translations, Travel & Tourism Industry, and the Managing Director Mrs. Nthabiseng Nancy Sambo, qualified in I.T. and Travel Management.
Mpassi Holdings has two subfields, Mpassi Translations and Mpassi Travel & Tour. The aim is to provide travel and guide packages in South Africa, to customers travelling to and from South Africa. Our services include hotel and ticket reservations as well as car services, guides, onsite translations, and many more.
Mpassi Holdings has developed solutions to help Institutions and individuals with Portuguese to English, English to Portuguese translation services, including authentication and Apostille process at the High Court, DIRCO (Department of International Relations and Cooperation) and the respective Consular Departments for recognition.
With great attention to detail and extraordinary work ethics we have since provided true and accurate services to satisfied customers.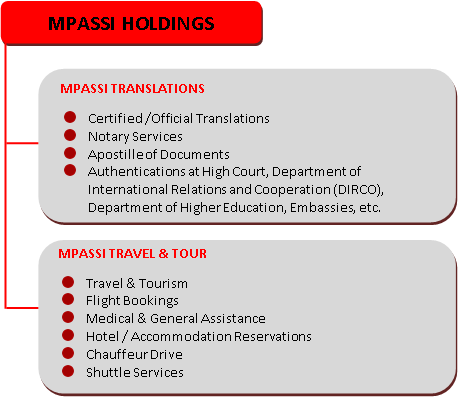 OUR MISSION:
Our mission is to deliver exceptional, accurate, convenient, affordable and timely services in the various field of services that we provide to our valuable customers. We look forward to provide travel logistics to existing and future client and obtain maximum customer satisfaction. To grow our business by the year, professionally and financially nationwide and across the borders. By doing so, also contributing positively towards job opportunities.
OUR VISION:
Mpassi Holdings is striving to expand and extend its services to large organizations by obtaining contracts and agreements bonding us to long-lasting professional satisfactory services. We focus on growth and commitment and aim at opening branches in strategically selected cities within the SADC region and beyond. We wish to see our services being requested and provided nationally and internationally in the near future, which is why we focus on efficiency, commitment, client satisfaction and confidentiality.
OUR SERVICES:
MPASSI TRANSLATIONS
With great attention to detail and efficiency, we specialise in English to Portuguese, Portuguese to English Translations, as well as providing assistance in Legalisation of documents at High Court, Department of International Relations and Cooperation (DIRCO), Department of Higher Education, Embassies, etc. We are committed to provide quality and affordability for the following service;
Certified Translation
Proof-Reading
On-site Interpretation
Notary Services
Apostille of Documents
Authentication of Documents
Birth Certificates
Marriage/Divorce Certificates
Police Clearances
Academic Documents
Medical Certificates
Drivers Licences
Death Certificates
And More...

MPASSI TRAVEL & TOUR
Professionalism, Safety & V.I.P. treatment, is what we offer to our esteemed clients. A one-stop-shop for all your travel logistics;
Travel & Tourism
Flight Bookings
Medical & General Assistance
Hotel / Accommodation Reservations
Tour Guide
Chauffeur Drive
Shuttle Services
OUR TEAM:
José Ambrósio Sambo (Chief Executive Director / Sworn Translator)
Nthabiseng NancySambo (Managing Director)
Delfa de Sousa (Executive Assistant / Translator)

CONTACT US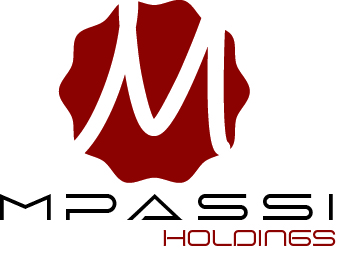 Mpassi Holdings (Pty) Ltd
Email: admin@mpassiholdings.com
Address: Pro Equity Court, Office G9, 1250 Pretorius Street, Hatfield, 0085
Website: www.mpassiholdings.com
Tel: (+27) 12 430 2195 / (+27) 81 751 2207
"Our Mission Your Success"