Accounting and Payroll Services
Capital Computer Bureau (Pty) Ltd (Registration Number: 1968/000104/07) (trading as Capital Software) is a Third Party Payments Processor (TPPP) and Systems Operator (SO) regulated by the National Payment Systems (NPS) Department of the South African Reserve Bank and registered at the Payments Association of South Africa (PASA) (see www.pasa.org.za).
For more information contact Jacques de Wet 012 653 9100 or email jdewet@capitalsoftware.co.za
Accounting and Advisory Services:
Motheo delivers a variety of financial advisory and accounting services. These services are delivered to large employer groups or affiliate groups that recognize the importance of delivering workplace wellness that unlocks savings and value to both employer and employee. Our unique approach to product innovation and our quick time-to-market for innovative products and services enables us to unlock incremental value to our customers. The financial management software includes the following: Debtors (Accounts Receivable), Creditors (Accounts Payable), and General (Nominal) Ledger.
Services Offered:
Motheo offers the following specialized services, tailored to meet clients' needs:
Audit:

Internal audit - establishment, rolling and annual plans, risk assessments and routine internal auditing

Special investigations

Performance auditing - economy, effectiveness and efficiency

Information technology audits

Accounting:

Monthly management reporting

Preparation of annual financial statements

Reconciliations

Capacity building- outsourcing the CFO role

Taxation (VAT, PAYE, Income Tax):

Compliance – corporate and personal

Risk Management and Corporate Governance:

Risk assessments

Compliance Audits

Management Consulting Services:

Project management

Cost and management consulting
Accounting and Payroll Services:
Profits is Enterprise Resource Planning (ERP) and integrated financial software addressing the business functions of financial information management, including debtors (accounts receivable), creditors (accounts payable), general (nominal) ledger and payroll.
For organizations committed to cutting costs whilst improving their management information techniques, Profits offers substantial efficiencies and business process automation that is unparalleled and world-class. The extensive interaction and integration between the respective modules provides for an exceptionally high degree of automation with substantial savings in time and resource costs.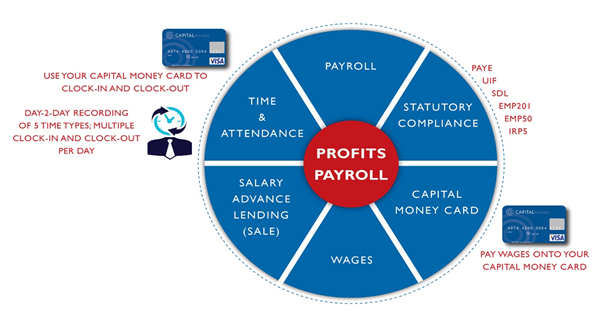 The Payroll module includes inter alia the following:
Employee record keeping;

Data administration and processing;

Payment of salaries / wages & Electronic delivery of pay slips;

Statutory payments e.g. PAYE, UIF & SDL;

Monthly submission of EMP201 reports;

Bi-annual submission of EMP501 reports;

Annual IRP5 reports;

Third party creditor payments;

Emolument Attachment Orders ("Garnishees); Integration with multiple banks; and

Electronic delivery of monthly management report.
The Time & Attendance (T&A) module includes inter alia the following:
Access control for time worked utilizing the Capital Money Pre-paid Debit Card;

Variable time by rate (e.g. regular, overtime, holiday, Saturday, Sunday etc) to derive earnings.
Includes inter alia the following:
Company policy record;

Employee policy record; and

Employee leave record;
The combination of Profits Payroll and Hutech's HR Outsourcing methodology optimizes overhead costs and access to quality and professional services.